Mission Statement
To ensure transformation of the Indian Tribal through education of the Tribal Child.
Inspired by His Holiness, Sri Sri Ravi Shankar founder of The Art and moved by his personal encounter with the poverty-stricken tribal families, Brij Chawla and a small team of volunteers started building schools in highly remote and inaccessible tribal villages in Jharkhand in 1999. Today, Tribal School Project runs 20 schools that provide free education, from kindergarten to High School, to over 3,600 tribal children in India.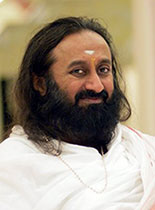 Sri Sri Ravi Shankar's vision is to have a "broad-minded education accompanied by a warm heart. Education is not just information. It is culturing of our behaviour and attitude. It is our ability to perceive things better. We need to bring in creative ideas. We should empower village youth, and bring them self-esteem."
Tribal People: Children of a Lesser God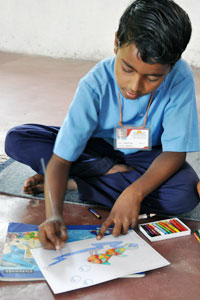 The tribal community used to live happily in forests, in a world of their own. They farmed, hunted and gathered fruits and firewood from the forest that ensured natural sustainability.
When 'developments' bulldozed, the delicate balance was broken forever. Land was taken away for mining and industrial use, forests were lost to logging, animals were driven out of their natural dwellings. The tribal people could not comprehend why God had suddenly changed his mind about the way they should live, leaving them hanging in the balance for survival. Uneducated and illiterate, they found the languages, laws and regulations, economic transaction, and the entire way of conducting life completely alien and many lost their land. So it seems that the 'developments' introduced or forced upon them are meant to benefit the 'outsiders', at the expense of the indigenous tribal community.
Seeding Hopes for Future Tribal Generations
Life for them will never go back to the old way. The tribal community needs help to evolve a new balance, to develop a new way of sustainable livelihood, one that plugs into the larger 'outside world' yet not discarding their traditional wisdom.
The hope of the tribal community rests with the younger generations, who are mouldable to bridge the modern world of knowledge and technologies, and the ancient wisdom of their traditions. Most of the students in the schools are first generation learners in their families and villages. They are the hope for tomorrow.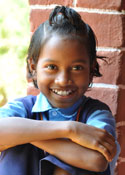 Tribal School Project is about educating the tribal children of today to serve as the seeds of progress, and development for the future generations. The focus of Tribal School Project is not merely on academic accomplishment but a holistic development in the child's moral value, eco-consciousness, community-oriented spirit, practical wisdom and spiritual maturity.

The aspiration of Tribal School Project is to nurture children as entrepreneurs, teachers, doctors, engineers, masons, plumbers, tradesmen, etc. The road is a long but as long as we walk the journey together, the tribal future is a bright one.